Children's Book Week was May 12-18, and in honor of the occasion, I have posted a sneak peak of my current illustration project: The Monster Mall!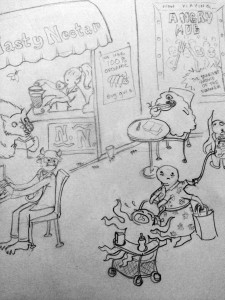 I love drawing monsters, and my kids love finding hidden objects in detailed drawings. During a recent trip to the mall, I was inspired by all the unique and wacky characters surrounding me, each with their own distinct look and behaviorisms. After a few sketches, the visual puns just kept coming, and the walls of my shopping center just kept expanding to hold all the wackiness, and now I'm in the middle of final sketch art on my largest illustration yet. It may even morph into a "Find the Hidden Object" game with all those details. That's what I love about drawing: you start with a simple sketch, which grows into a concept, a few friends are invited, and before long your creativity is hosting a pinata party on a yacht with a hunchbacked monster as captain and banana for a skipper. Stay tuned for that illustration.
Happy Children's Book Week, and keep reading, writing, and drawing for those special kiddos in your life.