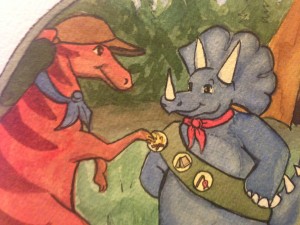 Transitions.
Autumn has given the air a a pleasant chill, plumes of gold and scarlet leaves are beginning to burst into view, and…
My son is in Kindergarten.
Which is apparently the big secret parents have been keeping. At one point, you gain back your independence. You really do! Your children go to school and you're left at home to do leisurely things like scrub the bathtub in solitude or mow the lawn without pausing to make sure nobody has gotten into the jellybeans while your guard was down. No, really. Chores have become lovely, because they're just chores and not something to cram into my schedule while also taking care of small children. Okay, I still hang out with my 3-year old daughter all day, but it's a freaking cake walk because she's adorable and happy all the time.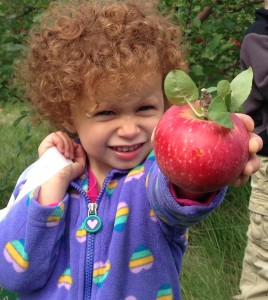 I also have a new job. I'm now an Art Instructor in the evenings at Minnesota Life College, which is the same place I've been working for the past 5 years, but as an Executive Assistant. Compared to my previous admin job where I was juggling a million plates and wearing a million hats and just generally doing that whole non-profit circus act, I am now developing art curriculum, teaching classes, and utilizing art therapy techniques with young adults with autism and Aspergers. It is awesome. I love it. And the kids love it, too. You can actually see them beaming with pride when they share their artwork at the end of class and their peers respond positively. A student said to me the other day, "I didn't know I could draw so well!" And that just feels damn good.
So I've had quite a few transitions in my personal life. And the book, "The Tryceratops" is also undergoing a transition…I'm finally PAINTING!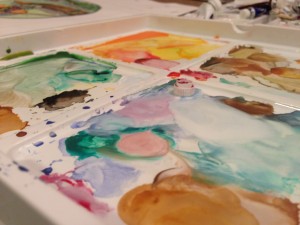 And…it's not easy. I continue to be amazed at how much time and effort this process can take. Since I started illustrating for children about two years ago, people in my life have often remarked that watching my process has given them a newfound appreciation for the work that goes into children's books.
It reminds me of something an anonymous poster would reply on my blog posts when I was a teenager. I never knew who the person was, but they always offered tidbits of wisdom on whatever drama my 16-year old self could muster up and broadcast to the world via Livejournal. This anonymous poster would often comment "It's simple, but not E.Z." I found out many years later this poster was my Dad.
Well, it's true in many ways, and it's definitely true for kids books. Good children's books look so simple, so effortless — don't they? But you have no idea how much went into them until you're behind the scenes, or trying to orchestrate your own. They're simple, but not E.Z.
And while I do have my education in Studio Art, I am self-taught in the field of painting (which has recently become quite evident). Give me a piece of charcoal and a nude body and I can draw you something freaking EPIC, but if you throw color into the mix I'm just confused. My mom recently asked me for advice on what color to paint her front door and I was actually dumbfounded. I ended up saying raspberry and now I just don't even know what's going on. Sorry mom.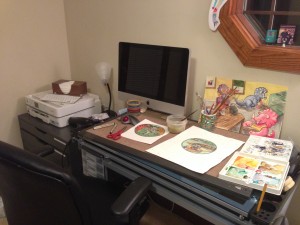 Fortunately, a few months ago my cousin Joe shared that he had a friend in the field of children's illustration. He hooked me up with their contact info, and Lo and Behold, it was an illustrator I'd admired for quite some time: Jennifer Emery (www.JenniferEmery.com). Jennifer met with me over coffee, spent hours giving me pointers, and continues to be a source of inspiration/light tables and help when troubles arise. So it's been AWESOME to have someone in my network when I'm just confused.
As it turns out, while I'd always thought drawing was a rather solitary activity, it's largely about networking. It's not like you can graduate with a degree in "Drawing Kids' Books," and land a job at "Kids Books Inc." and work your way up the ladder as you sit at your cubicle surrounded by all the necessary tools and supplies. YOU are responsible for finding your own employers/jobs, supplying the materials and space, and making your own connections. You basically create your own success. It feels good, but it's difficult. So you need a solid network of people around you, to ask questions, bounce ideas off, etc. In related news, The SCBWI (Society of Children's Book Writers & Illustrators) conference is coming up in October, and I am PUMPED to show my new work and brand new business cards. I also have FACEBOOK this year so I can actually stay connected with people after the event!
Now: About "The Tryceratops." Everything is going swimmingly, and I'm about 1/3 finished with the painting process. There are still final edits to be made in Photoshop, and I keep returning to previous illustrations (probably in danger of overworking the paper at this point), but I think I'm making good time. I should be done in about one month!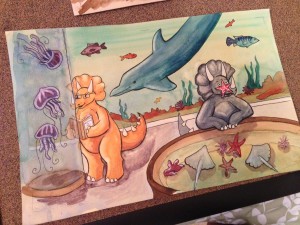 I cannot wait to see TEXT on these pages. I'm making a real book! Sometimes it's hard to believe. I'm so involved in the nitty-gritty of getting details right…finding scanners that don't completely warp the color schemes…making sure the dinos look consistent from page to page. It's hard to imagine a finished product I can read to my kids. But I cannot wait!
~e