It happened! "The Tryceratops" was published on April 30, 2015. And I am PUMPED! The reception has been amazing – I cannot believe the outpouring of support from my family and friends. Thank you to everyone who has purchased a book, and for those of you who still need one, visit www.ErinBoe.com/books!
There have been a lot of "firsts" for me with the publication of The Tryceratops. Obviously, this is the first time I've had a children's book published. And along with that comes my first sale and signing of an inside cover, my first reading at an elementary school, the first time I saw my book sitting on a bookstore shelf…It seems like every day, my network of family and friends is helping me to spread the word and add more "firsts" to my list!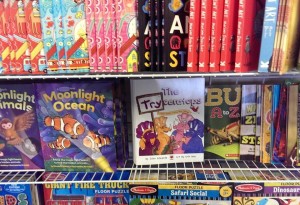 This blog post is all about my first book reading at my son's elementary school. It was AWESOME!
I knew just reading the book would only take about 2 minutes. I wasn't sure how to structure my time at first, and I had a hard time finding any forum posts or suggestions online about how illustrators can engage a classroom. So instead I made up my own plan— having a year of "art instructor" experience under my belt, and another 6 years of "mom" experience made it easy-ish.
I walked in to a classroom full of smiling and eager faces. I started by explaining that I had tried something new just yesterday, and I was going to draw the picture on the whiteboard so they could guess what it was. They quickly guessed the illustration: singing into a microphone for the very first time. I said I was nervous at first, but after awhile, I started to enjoy it.
Then it was their turn. I asked who had tried something new recently. They had a LOT to say! We took turns sharing all the new things these Kindergartners had tried: riding bikes without training wheels, going into the "deep end" of the pool, trying new foods. One soft-spoken girl waited until the very end, but quietly shared, "My Dad took me to the ocean, and at first I was scared, but then I found shells, and now I like the beach."
Every time a kiddo told me something new, I drew it on the whiteboard. At the end, we had a whole board full of illustrations. This was a great transition to start talking about what it means to be an illustrator. I explained that there was an author in California who did the same thing: He gave me words and stories, and I drew the pictures.
That's when we launched into the book reading. They were great listeners and I elongated the book by engaging them with questions like, "What are they baking in the kitchen? What have you tried baking? Can you sniff with your nose to smell the cookies?" (All great reading comprehension tricks you pick up as a mother!) They loved the dog fart joke – It seems to hit pretty well with the 6-year old age group!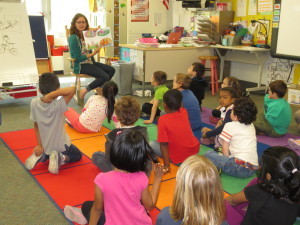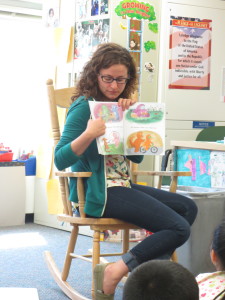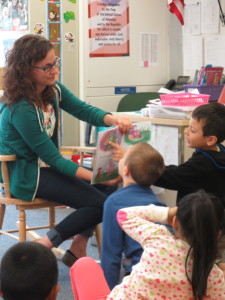 When we finished the book, we had a brief Q&A about illustration — what is my process? Where do I get my ideas? Why does Felix have so many questions if he lives with me? (LOL!) 
I told them ever since I was a Kindergartner, I had drawn and painted and wanted to be an artist. I knew I wanted to draw for my job when I got older. I worked hard, and I'm still working hard, but I followed my dreams and now look!  I illustrated a book. And it feels pretty darn good.