Great news: I've completed illustrations on "The Tooth Fairy who Forgot," by Carla Ferrell! This has been a long time in the works (about a year). The last time I published a blog post was in September, and I was in the thick of the sketching phase. Well, I've been hard at work painting and polishing my lil' booty off, and now I'm completely finished! The illustrations are now in Carla's hands as she pursues publication. I will keep you posted regarding the publication date and availability for purchase.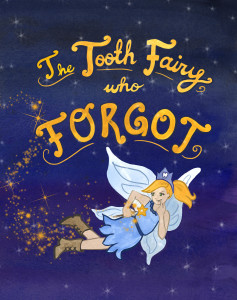 In the meantime, I'm feeling energized as I move on to new things. I created another syllabus for my own self-imposed illustration course (going on number 3 or 4 now, and they're free!), something the student in me demands to keep moving forward on new projects. You'd think I'd be an adult and create a "to do" list, but I just love having a syllabus with assignments and goals laid out. Even if the teacher is me.
I'm SO pumped to start working on my own projects again. I had big plans for my "Monster Mall" illustration: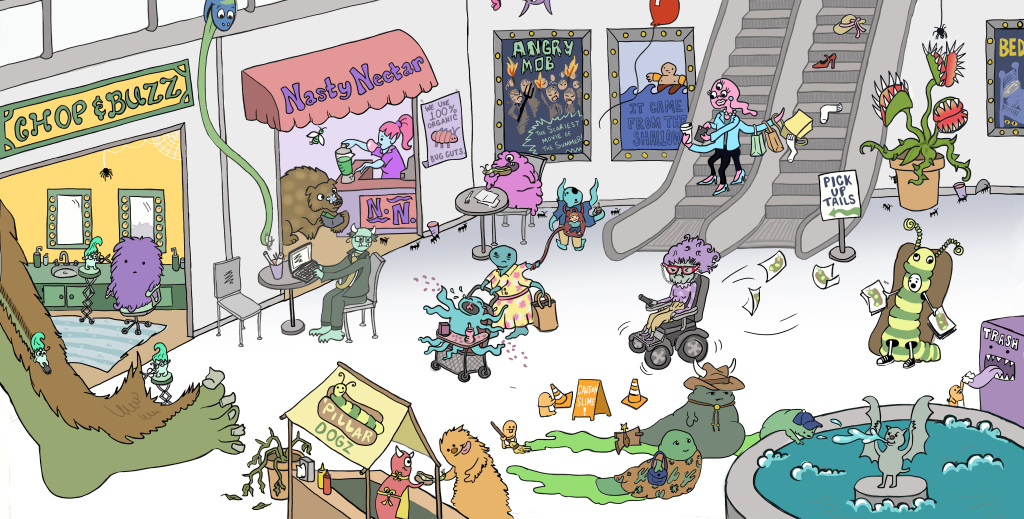 …and now I've got the time to flesh it out into a book. Basically, I need to hone my manuscript, figure out the layout of the book, sketch/paint another full illustration to completion, and complete rough sketches in a dummy. WOW.  I CAN DO IT!
Problems right now are my main character and his drive: He's Harold Hampton, astronaut, crash landed on Earth 2000 years later than he intended, only to find it overrun by monsters. So what drives him through the book? What keeps launching him into new scenes and places to explore? Right now, he's basically just…exploring. He gets hungry and needs a job for money/food, and in the end, he finds a female human scientist to hang out with, and he's…happy? Yeah, not quite clear. I need to figure out his drive and motivation to keep the story moving. It's not enough that he gets a job as a Mall Hot Dog, swings by the grocery store/beach/city park/other landmarks, and still feels empty for human connection. THAT'S NOT ENOUGH, HAROLD.
Secondly, what spread to pick for my second full-colored illustration? We've got the mall, now what? Well, I'm thinking this new Monster World has got to have a museum, right? Full of strange and ancient human artifacts from bygone times…It'll be the "MoMA," you know — The Museum of Monster Art. Complete with plenty of tongue-in-cheek references to the absurdity of the art world. Looking forward to brainstorming visual gags for the spread!
With any luck, monsters will be obsessing my thoughts for the next three months as I massage all these pieces together. My goal is to send out dummies to publishers by the end of Summer Vacay 2016. Wish me lucks! I'll also be updating my website with more custom art (buttons, logo), and enrolling in SVS (Society of Visual Storytelling) to take some online courses this summer and become better at perspective and lighting. Also thinking about pursuing my teaching certificate for K-12 arts education. You know what? Can I just get an extra 100 years added to my life? Please? God or whatever? 
In other news, things are going pretty well at my day job, you know. I don't just draw and paint for a living (yet). I introduced a Comic Arts course to my students this semester, and that's been a smash hit. I've been borrowing heavily from the masters like Lynda Barry and Scott McCloud to create lesson plans that are full of team exercises and prompts. The room is always full of laughter and giggles, and my students have actually said stuff like, "This is my favorite class…after Art Block."
And Art Block! Going swimmingly, broadening horizons, booking art shows, winning awards…No, seriously. After a year or planning and collaboration, I put together an art gallery show for my students at the University of Minnesota Institute for Community Integration (ICI). The work is actually up until April, and my students sold $600 worth of original artwork during the opening reception, which was widely attended. I also received the "Inspired Teaching Award" for my leadership in creating the new art curriculum at the school, and for fostering my Art Block students' commitment to the process and production of fine art. WHAT!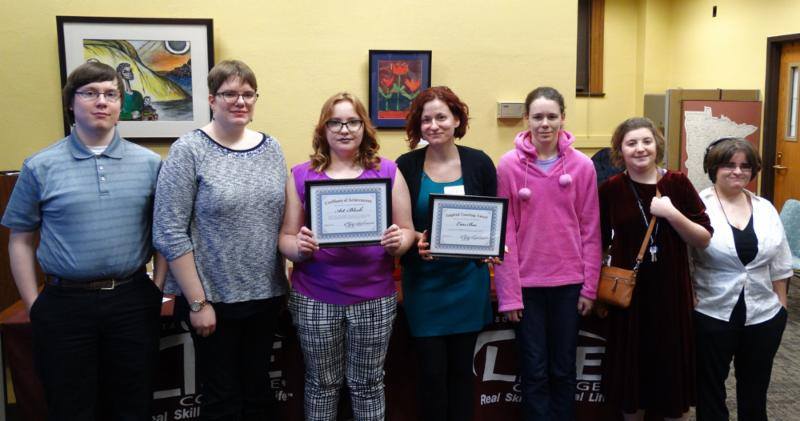 All in all, it's been a GREAT couple months. Carla's book and the art show were a long, long time in the making — and now they're finished, and I can return to my own projects. I feel accomplished and energized to move forward on to new things. I wrote "Life is good" to wrap up this blog post, but while editing I accidentally deleted part and it read, "Life is go." And you know what? That's actually better. LIFE IS GO!