I'm happy to report that I've been making great headway on my personal project, following along with my personal syllabus to check off 4-5 illustrative tasks per week toward the end goal of sending out my book dummy by May of 2017.
I did hit one MAJOR roadblock as I was strolling through a Good Will a few weeks ago. An AWFUL, DEPRESSIVE, DISHEARTENING roadblock. I present to you, MONSTROPOLIS: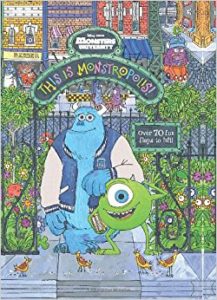 You might be wondering: What?! It's already published? I thought she was still drawing it!
Well, my friends – this is not MY book. Yes, it has the same title. Yes, it's a Search and Find book. Yes, it's set on a planet called Monstropolis and contains spreads such as city parks, apartments, grocery stores…
But it's not my book. It's a Monsters Inc. spin-off that I found in a GOODWILL.  As I paged through "This is Monstropolis," I felt my heart sink. I was upset and heartbroken. This was years of wasted effort. My book was trash. It had been DONE.
But then I realized this was just an opportunity to make my good idea even GREATER. If many of my spreads had already been conceptualized in this other book (which was, frankly, a little uninspired and didn't even have a story), maybe I hadn't pushed the envelope enough. Maybe I needed to roll up my sleeves and re-write my manuscript to be less "status quo."
And that's what I did. Now we won't be on Monstropolis, we'll be on GOOP – The Galactic Organization of Planets – and we won't just have monsters, we'll have a whole myriad of galactic citizens coming together, from aliens to robots to monsters to cyborg kitties. Yes, it was frustrating to design a few brand new spreads and throw some out with the trash. But I think my book will be better and more original in the end.
Other than that, I've had some other milestones – small things that nobody really sees me doing, but that are slowly building progress toward my final product. I've completed rough sketches on many spreads for my book, including a Transportation Station, City Hall, Beach, Museum, Classroom, and Grocery Store (yes, I'm still doing a grocery store, because it's hilarious and fun to create a spread full of snail guts and mud meatloaf and lizard tails)! Whew, sounds like a lot when I type it all out – I was showing my partner Alex the other day and he remarked, "When did you even do these?" Like I said, small things that nobody sees me doing, but I really am working here, people!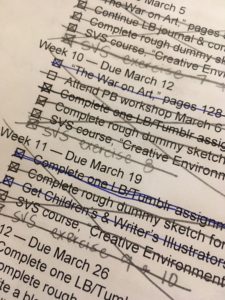 I also completed a course in Environment Design at SVSLearn.com (which I cannot say enough positive things about – what an incredible and affordable resource for artists), and I definitely have a better grasp on perspective now. Next I'll be taking a brief course on Robot Design (since we'll have a whole bunch of them moving to GOOP now!) and then looking for anything they've got to offer on book dummies, publishing and query letters. I had the fortunate luck of running into a fellow illustrator at Kiddywampus the other day who also recommended a site called Manuscript Academy where you can pay someone to critique your query letter – so who knows? Maybe I'll be able to do all my research online and get this puppy out the door in May!
In Tooth Fairy news, the author called me up this week and told me it'd be hot off the press in 2-3 weeks. So keep checking back for news about how to purchase!