Time for an update, yo!
BTW, I'm feeling punchy today. You've been warned.
I've got LOTS of illustration projects going on simultaneously this summer, but we're going to be alright because we have the syllabus, remember? It's all about checking off those little boxes, one by one, until we win that Caldecott in 2020. Mark my words.
If you've been following me on Facebook, Instagram, or Tumblr, you know that I embarked on a weird journey in June to eat only whole, unprocessed foods for 30 days. If you HAVEN'T been following me on various social media platforms, you're in luck 'cuz I added "follow" buttons at the bottom of my website, so get clickin', yo!
Anyway, You may've heard of "Whole30," a program where you eliminate foods that typically cause inflammation, basically ruling out entire food groups from your diet for the month. Well, I did it, and it was a great opportunity to create a comic memoir for the month. Every day, I sketched out a comic detailing my progress and thoughts, and my comic is now available in HARD COPY! Whoa! Special thanks to my bud Drew Brockington for teaching me how to make a comic book! I will be updating my B&W comics page on the website with all content soon, but for now, you can get the hard copy (plus a bonus, never-before-seen illustration within), by visiting www.erinboe.com/books.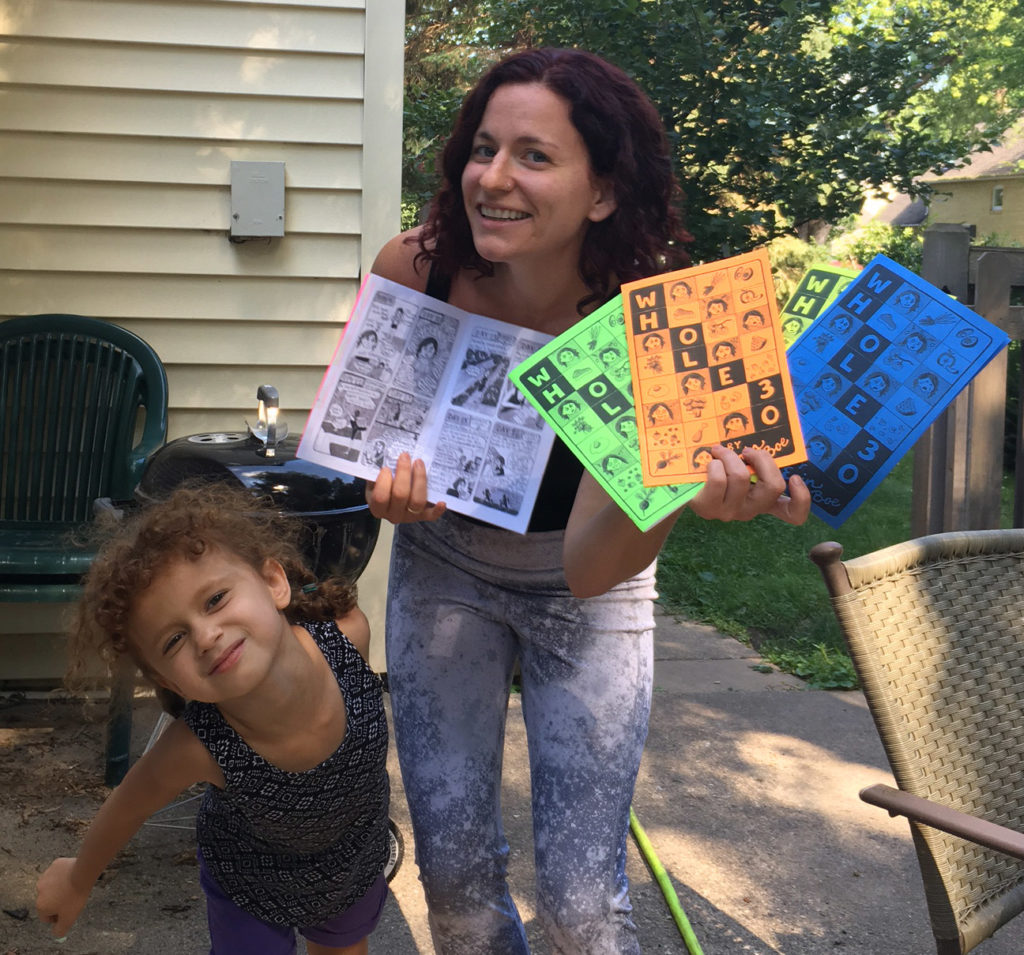 The entire process of creating a comic every day was a very fulfilling practice, and I'm hoping to embark on another challenge soon. I've been thinking about going completely tech-free for the month of August, which I think would make for a hilarious web comic. Basically, I just want that pleasure of picking up the receiver of a rotary phone when someone calls the landline and wrapping the cord around my finger while I pace the kitchen. Oh, and looking up numbers in the white pages and having an excuse for being late when I'm driving places. It all just sounds hilarious to me, but I'm sure it'll actually be torturous and lonely. But hey, that's the price you pay for good comics!
Besides the comic, my main priority has been Alphabet Adventures, the book I'm working on for Beaver's Pond Press. I had a meeting with the powerhouses today. I had already completed sketches on 16/26 of the alphabet letters, but was waiting on some final edits to the manuscript before I could forge ahead. And now, as Lily (the Director) says, I can be "UNLEASHED!" So far, the author and publisher are super happy with my sketches and I got a big huge "thumbs up" on what I'm doing. So everything is moving along swimmingly for my third children's book!
Harold Hampton, on the other hand…well, he has a lot of work ahead of him. Your favorite space plumber was recently shoved in front of the tribunal (my closest illustrator friends and mentors), and my pen was a-tizzy with comments and feedback. So basically I've got a laundry list down to the floor with edits and suggestions. I know it'll be an incredible book once everything is incorporated, but ABC Adventures is my main priority, so Harold is taking the back-burner, my friend. I figure taking some time away will also allow my creativity to drum up again, as I was feeling serious monster-fatigue. It will be my go-to project, however, when I'm waiting on the ABC team for feedback on my work.
So that's the word, people. Did anybody actually read this entire entry? Who reads blogs anymore? I do! Send me the link to your blog and we can be reading buddies – I'll print the whole thing out and read it during my tech-free August, highlight what I loved, write notes in the margins, and mail it back to you snail-mail style, sealed with a kiss. Then I'll draw a comic about it.