"Saying that working with Erin is a pleasure doesn't cover it. She brings a reliable professionalism to the table that keeps the project focused on the art…She has the ability to deliver and the gentle, creative spirit to provide insights that only make the original concept better. I would say yes to working with Erin again without hesitation!" -John Edwards, author of The Tryceratops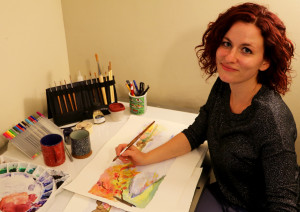 Hi there!
I'm Erin Boe, a freelance children's illustrator and comic artist living in Minnesota with my partner and two kids. I graduated from the University of Minnesota with my BFA in Studio Art and I just finished working on illustrations for my third children's book. I've taught drawing, painting, printmaking, and comic arts courses to young adults with learning differences, developing curriculum and utilizing art therapy to improve mental health and well-being.
I've always loved drawing, but I also love writing. My short stories have been published in Revolver literary journal, Writing Tomorrow magazine, and placed as finalists in contests with the Loft Literary Center and Vita.MN magazine. I make comics, too, and I've written a Young Adults novel. Basically, I spend all of my time writing, illustrating, and imagining for children and young adults!
Take a look around my site and see what you can find. Then, drop me a line. I would love to hear from you!
http://www.facebook.com/erinboe